Roadside Station Mikamo is on National Highway Route 50, approximately 1 minute by car from the Tohoku Expressway Sano-Fujioka Interchange, making it busy with not just locals, but also tourists. The building is very distinctive with a unique roof modeled on Mt. Mikamosan. There is a location for direct sales of agricultural products within the facility, which sells fresh vegetables and manjyu dumplings stuffed with locally grown sweet potato as well as other products. Why not come and enjoy some shopping and then afterward try the station's feature product, sweet potato gelato.
【Address】

678,Odawa Fujioka-machi Tochigi-shi Tochigi-ken

【TEL】

0282-62-0990

【Expressway entrance】

Tohoku Expressway Sanofujioka-Interchange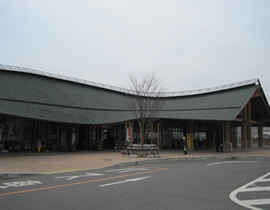 【Information】
Closed Tuesdays Konara-no Sato (products shop) and Restaurant Shimotsuke are open every day.
Farm products direct

State sales
Spot position