In addition to exhibitions on traditional arts, particularly the 3 major Nikko crafts of Nikko-bori carving, Nikko tea ceremony tools and Nikko geta sandals, the center also allows visitors to experience Nikko-bori carving. The Nikko Toshogu Shrine was rebuilt based on a command by the third Tokugawa shogun Tokugawa Iemitsu in 1634 and famous artists and craftsmen from all over the country came to work on the shrine including shrine carpenters, carvers, lacquer workers and red lacquer artists. The carvers carved many small details during their spare time while working and this is said to have been the origin of Nikko-bori carving. Nikko-bori carving uses chestnut wood and katsura wood and uses specialized tools called "hikkaki", which are also famous in Kamakura-bori wood carving.
【Address】

2848,Tokorono Nikko-shi Tochigi-ken

【TEL】

0288-53-0070

【Expressway entrance】

Nikko-Utsunomiya ROAD Nikko-Interchange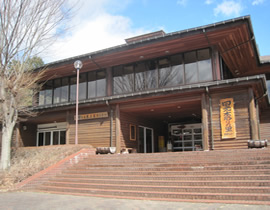 【Information】
Opening hours 9:00-17:00 Closed Thursdays (If it falls on a holiday, the next day),December 29th - 31th(Open every day from May to October) Admission is free.
Entrance

Explanation Board
Spot position